What We Offer
How It Works
Click on the link that says-Book an Appointment. We will send you a notification as soon as you're checked out.

If there is a princess pair you would like to change, for example Cinderella and Belle, rather than Snow White and Belle, or Elsa and Alice—please list in the box that says "Appointment Notes" during your check out.

Please list names of children and if it is a special occasion. We will have a surprise ready for the guest of honor!

Please list the number of children you will have at your party. If you are unsure of the number, please email us as soon as you know.

You will receive a Zoom link 48 hours prior to your party.


If you have any questions or concerns, email us at power princessparty@gmail.com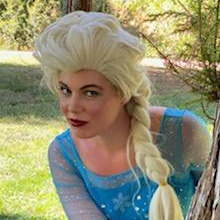 Do You Want To Build A Friendship?
Ages 2 & up
Although Anna and Elsa loved building snowmen, there is something else they loved building even more—a friendship!
Come sing along, share stories, witness some magic, and build friendships with Anna and Elsa, or any of our princess pairs!
Your child will also receive a personalized video recap, of what we discussed during our playdate.
Offered Daily
Anna & Elsa
Offered Weekdays
Cinderella, Snow White, Alice, Mad Hatter, Jasmine, or Belle
Virtual
$75.00 for 15 minutes
$100.00 for 30 minutes
In-Person
$280.00 for 30 minutes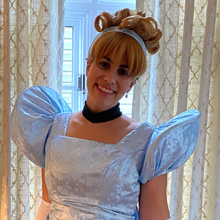 PrincessProv
Improv
Ages 8-12
When Cinderella was granted until midnight at the ball, she had no time to panic. When guests asked her 21 questions—she had to think quickly. Fortunately, Cinderella had years of experience improvising her way out of her Stepsisters bully sessions.
Now a frequent ball goer, and successful business woman, Cinderella does not let criticism and passive aggressive comments effect her. When she is in a bind, she can easily work her way out of it. Cinderella has transformed the kingdom into an equal opportunity workforce. She sets strong boundaries when she hosts her tea times—building personal and professional relationships, all while discussing ways to make the kingdom a more progressive one. She is known to be one of the most courageous and kindest individuals.
$75.00 for 15 minutes
$100.00 30 minutes
In-Person
$300.00 for 30 minutes
.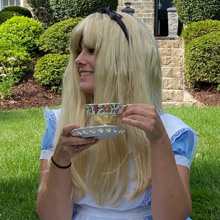 Coffee/Tea Date with the Girls
Ages 7-12
Did you ever wonder, Is Cinderella that nice without her morning coffee, how much White Tea did Snow White have to drink in order to sing Whistle while you work 24/7? A lot! Caffeine, chamomile, and lots of creamer— whatever you prefer we can pretend! Come have a coffee/tea date and hear the dl on any of our princesses. They would love to hear what's going on with you, so feel free to over share!
Offered Weekdays
Jasmine, Belle, Cinderella, Snow White, Alice and Mad Hatter, Elsa & Anna
$75.00 for 15 minutes
$100.00 for 30 minutes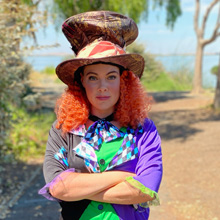 Alice's Mad Tea Party
Ages 7-12
Offered Weekdays
Virtual or in Central Park

Imaginative Play:
When Alice fell down a rabbit hole, she learned some very important lessons.
1: Never drink potion if you don't know what's in it.
2: Never eat cake if you don't know what's in it.
3: Never chase a rabbit!
Fortunately she had quite an adventure in Wonderland and she learned one very important lesson: It's okay to be mad sometimes. What's weird to one person, is extraordinary to the universe. Be your perfectly imperfect self and you will be rewarded.
Come act out a very mad tea party with Alice and the Mad Hatter. Have so much fun being you.
Offered Weekdays
Hosted by Alice & the Mad Hatter
$75.00 for 15 minutes
$100.00 for 30 minutes
$280.00 for 30 minutes in Central Park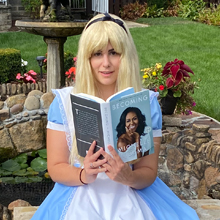 Princess Positivity Playdate
It's important to build friendships, but it's more important to fly solo! Come sing songs, tell your own story, and have so much fun with one of our princesses
Offered Weekends
Hosted by
Anna, Cinderella, Jasmine, or Alice
$35.00 for 15 minutes
$50.00 for 30 minutes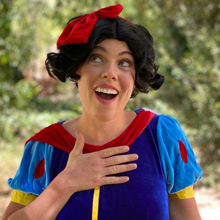 Personalized Video Message
Whether it's a good luck on your dance recital, or I hope you are having a good day. We offer a personalized video message from any of our characters. Please list the occasion, your child's name, along with the correct pronunciation,  and what princess you would like to have send them a message.
$30.00
Princess Positivity Playdate In-Person Option
Do you believe in magic? We do!

Now you can have a magical playdate with your favorite princess in Central Park. This in-person playdate can be hosted by Jasmine, Belle, Cinderella, Snow White, Alice, Elsa or Anna.

Please note: All in-person parties and playdates follow COVID Safety Protocol.

Offered Daily

Hosted by: Jasmine, Belle, Cinderella, Snow White, Alice and Mad Hatter, Elsa & Anna
$75.00 for 15 minutes

$150.00 for 30 minutes

Offered Weekends
Hosted by
Jasmine, Belle, Cinderella, Snow White, Alice and Mad Hatter, Elsa & Anna
$75.00 for 15 minutes
$150.00 for 30 minutes